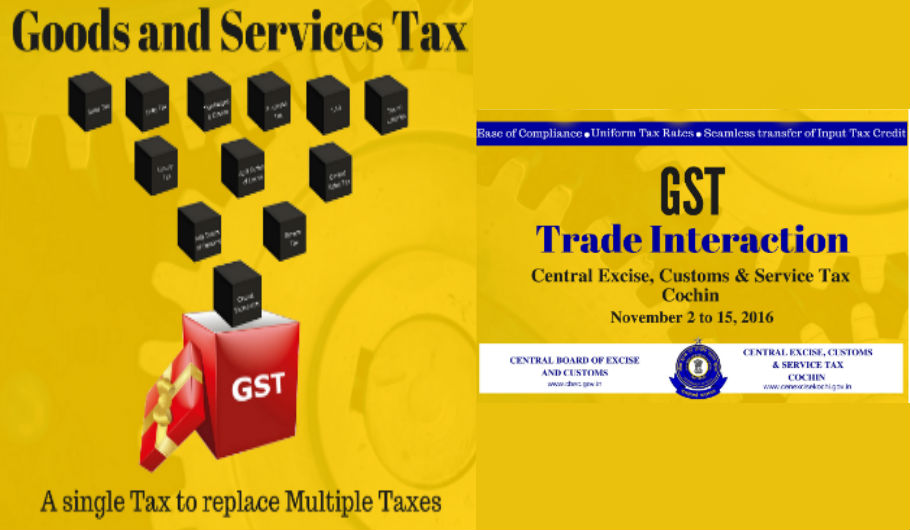 The Goods and Services Tax, scheduled to be rolled out nationally from April 1, 2017 would be a very significant step in the field of indirect tax reforms in India. Aimed at enhancing the economic integration of India, the tax system seeks to put in place a simpler, technology driven tax regime that facilitates ease of compliance from businesses while augmenting tax revenue and ease of administration. The Central Excise, Customs & Service Tax Department has been tasked with the seamless implementation and administration of the new tax regime.
As part of this mandate and its role as facilitators of trade and industry, the Department has decided to conduct a series of outreach programs nationally to raise awareness about GST among various stakeholders including commerce and industry, tax practitioners and officers of the department.
Kerala, being predominantly a consumption state, GST is expected to create significant changes from the way in which tax is being administered in the state. The Central Excise, Customs & Service Tax Cochin Commissionerate has scheduled a series of lectures and seminars in partnership with trade and industry beginning November 2, 2016 to be held at all major commercial and administrative towns in the districts of Ernakulam, Kottayam, Alappuzha and Idukki that come under its jurisdiction. The first phase of this program will conclude on November 15, 2016.
These sessions, which will have senior officers in attendance, will focus on issues specific to trade and industry and provide a platform to raise queries and concerns regarding GST. A schedule for Phase I is given below. We welcome questions from all stakeholders and the general public and these maybe emailed to: cexcochi@nic.in
We invite you to be our partners in this endeavour to create "One Nation, One Tax, One Market".
GST OUTREACH PROGRAMME SCHEDULE
| | | |
| --- | --- | --- |
| SN | Date | Place |
| 1 | 2nd November 10:oo am | Head Quarters, Cochin |
| 2 | 3rd November 10:00 am | Chapter for Social & Business Advancement, Raiban Shopping Complex, Alleppey |
| 3 | 4th November 10:00 am | Harriet, Unni Ramesh Road, Near Rozario's, Thoppumpady, Cochin |
| 4 | 5th November 2:00 pm | E.A.P Hall, Thodupuzha |
| 5 | 7th November 10:30 am | Bishop Jacob Memorial Hall, Opp. Paragon Head Office, CMS College Road, Kottayam |
| 6 | 8th November | YMCA Hall, Aluva |
| 7 | 9th November 9:30 am | Kerala Small Industries Association Hall, HMT Ancilliary Industrial Estate, Kalamassery |
| 8 | 10th November 9:30 am | Sawmill Owners & Plywood Manufacturers Association, Kunnathan Residency, Perumbavoor |
| 9 | 10th November 2:00 pm | Perumbavoor Merchants Association, Vyapari Bhavan, Mullapilly Building, Perumbavoor |
| 10 | 11th November 2:00 pm | Kattapana Co-operative Bank Hall, T B Junction, Kattapana |
| 11 | 15th November 9:30 am | Vyapar Bhavan Hall, Angamaly |