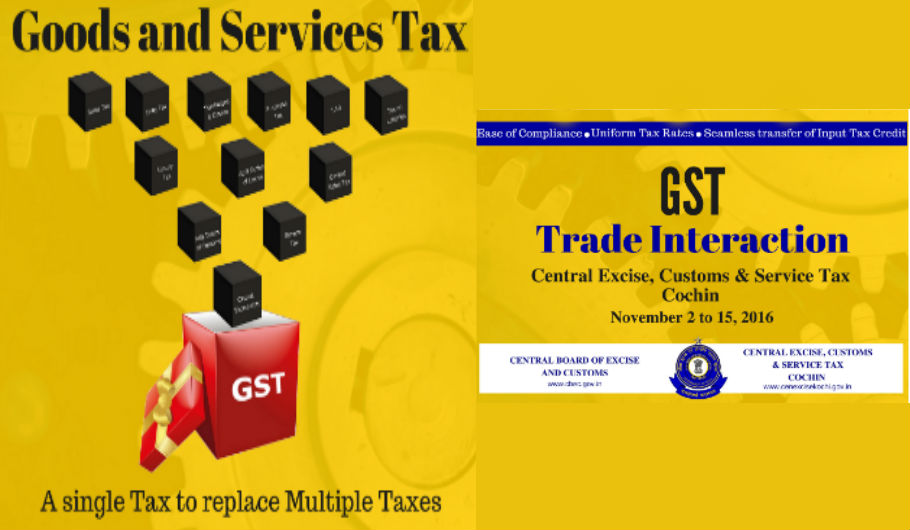 The Goods and Services Tax, rolled out nationally on July 1, 2017 that was a very significant step in the field of indirect tax reforms in India. Aimed at enhancing the economic integration of India, the tax system seeks to put in place a simpler, technology driven tax regime that facilitates ease of compliance from businesses while augmenting tax revenue and ease of administration. The Central Tax Department has been tasked with the seamless implementation and administration of the new tax regime.
As part of this mandate and its role as facilitators of trade and industry, the Department has decided to conduct a series of outreach programs nationally to raise awareness about GST among various stakeholders including commerce and industry, tax practitioners and officers of the department.
In order to achieve this various workshops/awareness campaigns has been scheduled in different locations of Kerala in the month of October, 2017 to highlight the GST related issues. These programmes, which will have senior officers in attendance, will focus on three themes viz. (i) Consumer Awareness (ii) Small and Medium Sector Enterprises and (iii) GST return filing.
The Scheduled Date and Place of Workshops/Awareness Programmes on Consumer Awareness, MSME Sector and GST Return Filing during October, 2017.

Name of formation

Date/Time

Venue

 

1st Week of October

(11 Hrs. to 13 Hrs.)

2nd Week of October

(14 Hrs. to 16 Hrs.)

 
THIRUVANANTHAPURAM  CENTRAL TAX & CENTRAL EXCISE COMMISSIONERATE
05/06.10.2017
12/13.10.2017
Thiruvananthapuram City
Thiruvananthapuram South Division
05/06.10.2017
12/13.10.2017
Thiruvananthapuram South
Neyyattinkara  Range
03/04.10.2017
09/10.10.2017
Neyyattinkara
Kattakkada Range
03/04.10.2017
09/10.10.2017
Thiruvananthapuram City
Pappanamcode Range
03/04.10.2017
09/10.10.2017
Thiruvananthapuram City
Chalai Range
03/04.10.2017
09/10.10.2017
Thiruvananthapuram City
Statue Range
03/04.10.2017
09/10.10.2017
Thiruvananthapuram City
Thiruvallam Range
03/04.10.2017
09/10.10.2017
Thiruvananthapuram City
Thiruvananthapuram North Division
03/04.10.2017
09/10.10.2017
Thiruvananthapuram North
Nedumangad
05/06.10.2017
12/13.10.2017
Nedumangad
Attingal
05/06.10.2017
12/13.10.2017
Attingal
Veli Range
05/06.10.2017
12/13.10.2017
Thiruvananthapuram City
Kazhakoottam
05/06.10.2017
12/13.10.2017
Kazhakoottam
Pattom Range
05/06.10.2017
12/13.10.2017
Pattom
Kollam  Division
05/06.10.2017
12/13.10.2017
Kollam City
Kollam City Range
03/04.10.2017
09/10.10.2017
Kollam City
Kottiyam Range
03/04.10.2017
09/10.10.2017
Kottayam
Karunagappally Range
03/04.10.2017
09/10.10.2017
Karunagappally
Kottarakkara Range
03/04.10.2017
09/10.10.2017
Kottarakkara
Punalur Range
03/04.10.2017
09/10.10.2017
Punalur
Pathanamthitta Division
03/04.10.2017
09/10.10.2017
Pathanamthitta City
Pathanamthitta  Range
05/06.10.2017
12/13.10.2017
Pathanamthitta
Thiruvalla Range
05/06.10.2017
12/13.10.2017
Thiruvalla
Adoor Range
05/06.10.2017
12/13.10.2017
Adoor
Ranni Range
05/06.10.2017
12/13.10.2017
Ranni
Alappuzha Division
05/06.10.2017
12/13.10.2017
Alappuzha Town
Alappuzha Range
03/04.10.2017
09/10.10.2017
Alappuzha Town
Cherthala Range
03/04.10.2017
09/10.10.2017
Cherthala
Kayamkulam Range
03/04.10.2017
09/10.10.2017
Kayamkulam
Chengannur Range
03/04.10.2017
09/10.10.2017
Chengannur
Kottayam Division
03/04.10.2017
09/10.10.2017
Kottayam City
Kottayam 1 Range
05/06.10.2017
12/13.10.2017
Kottayam City
Kottayam II Range
05/06.10.2017
12/13.10.2017
Kottayam City
Changanacherry Range
05/06.10.2017
12/13.10.2017
Changanacherry
Mundakkayam Range
05/06.10.2017
12/13.10.2017
Mundakkayam
Pala Range
05/06.10.2017
12/13.10.2017
Pala

COCHIN

CENTRAL TAX & CENTRAL EXCISE COMMISSIONERATE

05/06.10.2017
12/13.10.2017
Cochin City
Ernakulam Division
05/06.10.2017
12/13.10.2017
Cochin City
Ernakulam Range I
03/04.10.2017
09/10.10.2017
Cochin City
Ernakulam Range 2
03/04.10.2017
09/10.10.2017
Cochin City
Ernakulam Range 3
03/04.10.2017
09/10.10.2017
Cochin City
Ernakulam Range 4
03/04.10.2017
09/10.10.2017
Cochin City
Ernakulam Range 5
03/04.10.2017
09/10.10.2017
Cochin City
Ernakulam Range 6
03/04.10.2017
09/10.10.2017
Cochin City
Kavaratti Range (UTL)
03/04.10.2017
09/10.10.2017
Kavaratti Range (UTL)
Kakkanad Division
03/04.10.2017
09/10.10.2017
Kakkanad/Kathrikadavu
Kakkanad Range I
05/06.10.2017
12/13.10.2017
Kakkanad/Kathrikadavu
Kakkanad Range 2
05/06.10.2017
12/13.10.2017
Kakkanad/Kathrikadavu
Kakkanad Range 3
05/06.10.2017
12/13.10.2017
Kakkanad/Kathrikadavu
Kakkanad Range 4
05/06.10.2017
12/13.10.2017
Kakkanad/Kathrikadavu
Kakkanad Range 5
05/06.10.2017
12/13.10.2017
Kakkanad/Kathrikadavu
Petroleum Products Range
05/06.10.2017
12/13.10.2017
Kakkanad/Kathrikadavu
Aluva Division
05/06.10.2017
12/13.10.2017
Kakkanad/Kathrikadavu
Aluva Range
03/04.10.2017
09/10.10.2017
Aluva
Angamaly Range
03/04.10.2017
09/10.10.2017
Angamaly
Paravur Range
03/04.10.2017
09/10.10.2017
Paravur
Eloor Range
03/04.10.2017
09/10.10.2017
Eloor
Perumbavoor Division
03/04.10.2017
09/10.10.2017
Perumbavoor Town
Kizhakkambalam Range
05/06.10.2017
12/13.10.2017
Kizhakkambalam
Kolenchery Range
05/06.10.2017
12/13.10.2017
Kolenchery
Perumbavoor Range
05/06.10.2017
12/13.10.2017
Perumbavoor
Kothamangalam Range
05/06.10.2017
12/13.10.2017
Kothamangalam
Muvattupuzha Range
05/06.10.2017
12/13.10.2017
Muvattupuzha
Idukki Division
05/06.10.2017
12/13.10.2017
Idukki Town
Vandiperiyar Range
03/04.10.2017
09/10.10.2017
Vandiperiyar
Kattappana Range
03/04.10.2017
09/10.10.2017
Thodupuzha
Thodupuzha Range
03/04.10.2017
09/10.10.2017
Thodupuzha
Munnar Range
03/04.10.2017
09/10.10.2017
Munnar
Chalakkudy Division
03/04.10.2017
09/10.10.2017
Chalakkudy Town
Irinjalakkuda Range
05/06.10.2017
12/13.10.2017
Irinjalakkuda
Chalakkudy Range
05/06.10.2017
12/13.10.2017
Chalakkudy
Kodungallur Range
05/06.10.2017
12/13.10.2017
Kodungallur
Amballur Range
05/06.10.2017
12/13.10.2017
Amballur
Thrissur Division
05/06.10.2017
12/13.10.2017
Thrissur Town
Thrissur Range
03/04.10.2017
09/10.10.2017
Thrissur
Ayyanthole Range
03/04.10.2017
09/10.10.2017
Ayyanthole
Chembukkavu Range
03/04.10.2017
09/10.10.2017
Chembukkavu
Guruvayoor Range
03/04.10.2017
09/10.10.2017
Guruvayoor
Kunnamkulam Range
03/04.10.2017
09/10.10.2017
Kunnamkulam
KOZHIKODE CENTRAL TAX & CENTRAL EXCISE COMMISSIONERATE
03/05.10.2017
07/12.10.2017
Kozhikode City
Palakkad Division
03/04.10.2017
09/10.10.2017
Palakkad Town
Ottappalam Range
05/06.10.2017
12/13.10.2017
Ottappalam
Alathur Range
05/06.10.2017
12/13.10.2017
Alathur
Chittur Range
05/06.10.2017
12/13.10.2017
Chittur
Palakkad North Range
05/06.10.2017
12/13.10.2017
Palakkad North
Palakkad South Range
05/06.10.2017
12/13.10.2017
Palakkad South
Malappuram Division
04/05.10.2017
12/13.10.2017
Valachery/Malappuram
Manjeri Range
03/04.10.2017
09/10.10.2017
Manjeri /Pandikkad
Perinthalmanna Range
03/04.10.2017
09/10.10.2017
Perinthalmanna
Malappuram Range
03/04.10.2017
09/10.10.2017
Malappuram/Kottakkal
Thirur Range
03/04.10.2017
09/10.10.2017
Thirur /Ponnani
Kondotty Range
03/04.10.2017
09/10.10.2017
Kondotty /Nilambur
Kozhikode Rural Division
03/04.10.2017
09/10.10.2017
Kozhikode City
Vadakara Range
04/05.10.2017
11/12.10.2017
Vadakara
Koyilandi Range
04/06.10.2017
10/12.10.2017
Koyilandi
Thamarassery Range
04/06.10.2017
10/12.10.2017
Thamarassery
Kalpetta Range
05/06.10.2017
10/12.10.2017
Kalpetta
Sulthan Bathery Range
05/06.10.2017
12/13.10.2017
Sulthan Bathery
Kozhikode Urban Division
05/06.10.2017
12/13.10.2017
Kozhikode City
Kozhikode I Range
03/04.10.2017
11/12.10.2017
Kozhikode  City
Kozhikkode II Range
03/04.10.2017
09/10.10.2017
Kozhikkode  City
Kozhikkode III Range
03/04.10.2017
09/10.10.2017
Kozhikkode City
Kozhikkode IV Range
03/04.10.2017
09/10.10.2017
Kozhikkode City
Kozhikkode V Range
04/05.10.2017
09/10.10.2017
Kozhikkode City
Kannur Division
03/04.10.2017
09/10.10.2017
Kannur Town
Kannur I Range
05/06.10.2017
12/13.10.2017
Kannur Town
Kannur II Range
05/06.10.2017
12/13.10.2017
Kannur Town
Thamarassery Range
05/06.10.2017
12/13.10.2017
Thamarassery
Thaliparamba Range
05/06.10.2017
12/13.10.2017
Thaliparamba
Kasargod Range
05/06.10.2017
12/13.10.2017
Kasargod
Kanhangad Range
05/06.10.2017
12/13.10.2017
Kanhangad